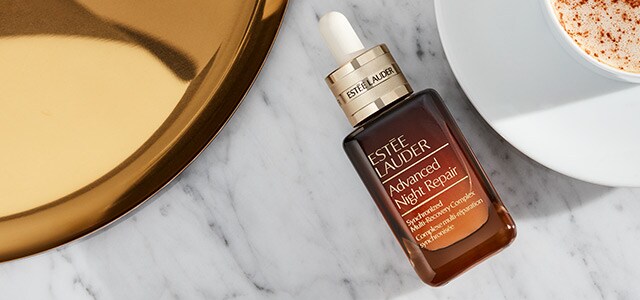 REMEMBER WHEN TIME WAS NOT OF THE ESSENCE?
Busy schedules feeling like your allotted time for self-care is dwindling? Don't stress, we're here to show you how to maintain your #stayhome habits with our new favorite form of crunched-on-time self-care: BEAUTY BREAKS!
THE COMMUTE
Did someone say rush hour traffic? Picking out a presentable outfit and getting out the door all before 8AM? How did we ever do this and balance a beauty routine? If fully remote working will soon be a distant memory for you, we've got you covered.
BEAUTY BREAK!
We've got a perfect 2-step beauty routine you can do (almost) anywhere! Use the easy applicator in Double Wear Stay-in-Place Flawless Wear Concealer to swipe a line in the inner corner of the eyes. With clean hands, gently pat under eyes with your (sanitized) ring finger. Finish with a swipe of Sumptuous Rebel Mascara—the small paddle applicator makes it easy to target lashes with just one stroke. And just like that, you're on the go again.
NO-FILTER FLAWLESS
Anyone else loving the flattering computer camera blur effects? Now that more in-person meetings are happening, it's time to try one of our our IRL alternatives to our favorite filters.
BEAUTY BREAK!
Before your morning makeup, apply NEW Perfectionist Pro Multi-Zone Wrinkle Concentrate. Formulated with Hyaluronic Acid, this innovative product helps instantly helps plump fine, dry surface lines for a smoother look without the filter.
OFFICE DAYS
The desk lunch, the mad dash to conference rooms, the collection of shoes we have under our desks. Being in the office can be stressful.
BEAUTY BREAK!
We're instating BYOBT (Bring Your Own Beauty Tools) to the office. When you have a moment of deskside downtime, reach for our favorite cooling tools—the Re-Nutriv Ultimate Facial Massager and the Cryo-Steel Wand Applicator from Advanced Night Repair Eye Matrix. Both help increase micro-circulation. Both create an indulgent moment of relaxation—even from inside the office.
STAYING OUT TOO LATE
You know the line: Just one more drink! We've all fallen into the happy hour trap that leaves us feeling AND looking tired the next morning. Take a beauty break that will leave skin looking radiant for beautiful visible vitality!
BEAUTY BREAK!
Apply Micro Essence Treatment Lotion all over your face with hands or a cotton pad. Micro Essence activates and strengthens skin's foundation to reveal a youthful, angelic glow. Reveals soft, plump, glowing skin that feels instantly refreshed, renewed, rebalanced and ready to take on the day!